The true value of employee benefits: everything you need to know
Updated 01 July 2022
5min read
Knowing your worth as an employee can be tough.
The salary, the location, the workload. You think you've found the best job out there for you — but have you?
As an employee working in the UK, you're entitled to a number of mandatory and statutory benefits, but in today's competitive job market, employers have had to get a bit more generous with their non-compulsory benefit packages too.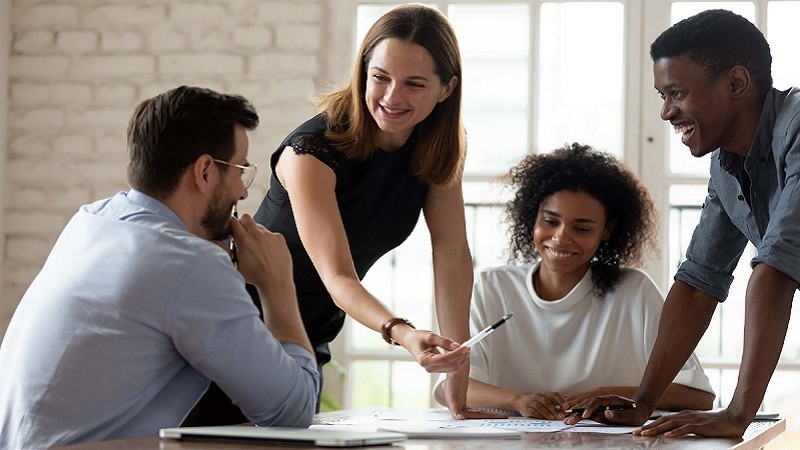 What are employee benefits?
Employee benefits are any extra incentives provided by your employer, on top of your contracted salary or wages.
But why are these additional benefits important? They are designed to promote employee wellbeing and satisfaction — and could be anything from flexible working hours and dental care to family leave support programmes and flexible working hours.
Some benefits (core benefits) are legally required, whereas others are offered as an added perk to attract and retain employees.
Why are employee benefits important?
A company's compensation package, and the benefits they include, are often high up on the priorities of prospective employees when searching for a job.
These benefits can help employees save for retirement, pay for healthcare and take time off from work for some much-needed R&R.
If organisations, business owners and managers all understand the importance of benefits, this will help them provide more comprehensive packages to find and keep talented employees.
It will also allow employees and candidates to determine what's important to them in a role, beyond just the job itself.
Types of employee benefits
Core benefits
Every employee is entitled to the core benefits (also known as mandatory benefits) their company offers, no matter how long they've worked there and no matter what their level is.
However, more senior staff may sometimes have access to a larger benefits package.
Pension
As pensions are a mandatory benefit in the UK, employers must auto-enrol eligible employees into the appropriate pension.
This auto-enrolment means employers must provide employees with a minimum level of pension provision.
The minimum contribution rate for workplace pension schemes is currently eight per cent of 'qualifying earnings' (as defined in the legislation). At least three per cent of this must be paid by the employer.
However, pensions are considered a key benefit in the UK, and many employers contribute significantly above the minimum level.
Employees can contribute more, but in the UK, there are maximum annual allowances that must be considered.
When designing a UK pension scheme care needs to be taken in five main areas:
Contributions – What level of contributions will be competitive and attract the right talent?

Contribution method – The most tax-efficient method of deducting contributions is Salary Exchange (also known as Salary Sacrifice) as it gives maximum relief in terms of tax and national insurance to the employee and employer

Carrier selection – Selecting the best supplier based on proposition delivery, terms, employee engagement support and financial strength

Default fund – The pension provider will offer a specific default fund for enrolment which is run under strict governance criteria. However, some employers may prefer to select an alternative default fund for enrolment, based on their own considerations and requirements relating to performance, environmental and social governance
Employee support – How is the scheme communicated and what specialist support are employees provided with?
Holiday pay
If an employee works five days a week, they are legally entitled to receive at least 28 days paid annual leave per year — the equivalent to just over five and a half weeks holiday (known as annual leave or statutory leave entitlement).
However, an employer can include public/bank holidays as part of an employee's statutory annual leave.
It's common for employers in the UK to provide greater paid holidays than the statutory minimum, with many employers offering the opportunity for employees to increase holiday entitlement by buying extra days as part of a flexible benefits package.
Maternity/paternity pay
Find all of the information for maternity and paternity leave on the gov.uk website.
Sick pay
As per the government's requirements, employers are obligated to provide a minimum level of Statutory Sick Pay (SSP). It's paid by your employer for up to 28 weeks if you're too ill to work.
However, many employers voluntarily boost the minimum benefit with contractual sick pay benefits too. They will do this by paying some sick pay (for example 2–4 weeks) at full pay and then reduce payments.
Some industries are generous when it comes to topping it up, whereas other sectors provide no supplemental sick pay whatsoever.
Extra benefits
Healthcare
Employers that offer healthcare as a part of their employment packages incorporate initiatives, schemes, tokens and coupons for employee productivity and welfare.
Common types of benefits include:
Employee assistance plans

Eye care vouchers

Death in service/life assurance

Employee assistance plans

Free flu vaccinations
Financial support for employees who must self-isolate

Gym memberships

Spa access
Employee Perks
Season ticket loan
This is a perk that is common for employees working in commuter cities.
Employers will loan employees money to buy a discounted annual season ticket and will then reclaim the money from the employee's salary every month.
Bike to work
This tax-efficient scheme not only encourages commuting by bicycle, it's also a boost for the environment.
This benefit enables employees to save up to 43 per cent in tax on the purchase of a new bike.
The employer will essentially buy the bike, and the employee will rent it for a specified period with the option to buy it at a heavily reduced rate at the end of the rental term.
Tax-free childcare
The government's tax-free childcare programme replaced childcare vouchers in 2018.
Parents can get up to £2,000 a year per child towards childcare costs through tax-free childcare. This includes nursery, childminders, and wrap-around care.
Gyms
Well-being allowances have really increased in business. Benefits like reduced gym membership/sports fees allow employees to do any sports activity rather than just visiting the gym.
Workplace canteens
Who doesn't love free or cheaper grub? Workplace canteens tend to be common with larger employers, with breakfast, lunch and dinner being provided at a subsidised rate.
Company cars
Some employees may get a company-financed car and/or fuel, or car allowance, depending on necessary business travel for your position, or the seniority level of your role.
The rest of the best
And when you're on the lookout, remember, a lot of employers may offer a number of other diverse employee benefits including:
Unlimited holiday

Paid or part-paid conference attendance

Christmas parties

Concierge services

Relaxation apps
Free or subsidised staff canteens

Nap room
For more relevant tips and articles straight to your inbox, sign up to our emails.