With expensive mortgages making moving a less attractive prospect, you might consider adding value to your current property instead.
A garden office is one popular way, and a good way to capitalise on the growing popularity of home working.
We take a closer look at how much value a garden office could add to your home.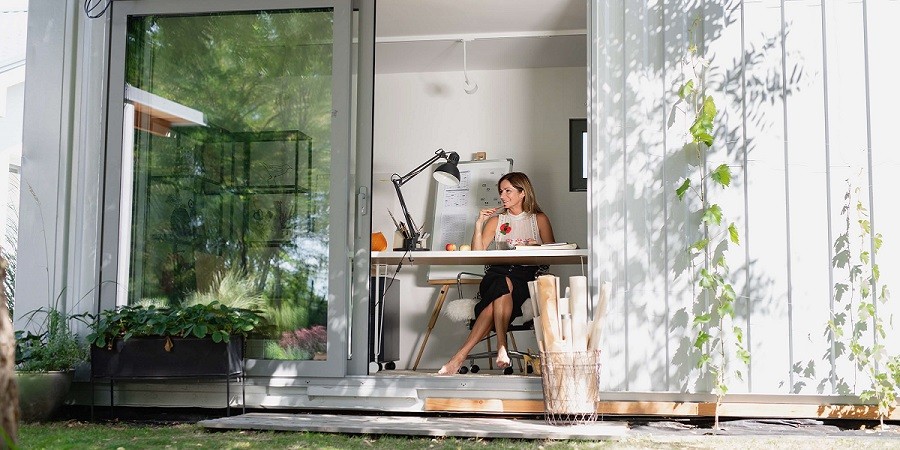 Get financial advice
We'll find a professional perfectly matched to your needs. Getting started is easy, fast and free.
So - how much value can a garden office really add?
It's estimated that the extra space provided by a garden office can add between five and ten per cent to the value of your home.
So if your home is worth, say, £400,000, then you could see an increase of between £20,000 and £40,000.
It could be even more, but this is dependent on all sorts of factors, such as the area you live in, the nature of your property, the size and quality of the garden office and how much of the garden is being taken up.
A really basic garden office can cost as little as £1,000, while a properly kitted out, well-insulated space with all the latest technology might cost £30,000 or more.
It could be a shrewd idea to chat with a local estate agent about the value of your property and the kind of buyers who are looking in your area before committing to a plan.
Why is a garden office such an attractive feature?
A garden office can add real value to your home because it meets the changing needs of many working people.
This is particularly true of professionals with families, who are keen to exploit the potential of remote working, away from city centre offices, but who also need a quiet, private space, free from domestic distractions.
A business owner might be able to give up expensive work premises altogether, so they will see the extra value in your home straight away.
Adding wow-factor
It's a very good idea to pay careful attention to the design of your garden office.
Go for a clean, contemporary look, with plenty of useable well-lit space. Not only will this appeal as a good, functional work room, it will add emotive and aesthetic appeal to your whole property. Your garden office can become a talking point.
Size and quality are key
It's tempting to build a real statement office once you've decided to go for it, but be careful not to swamp the garden.
If you've got loads of outdoor space then this won't be a problem, but it's important to remember that family buyers in particular will be keen to see garden space for kids to play in and for entertaining.
Quality matters too. A smaller garden office built from nicer materials and finished to a higher standard will be a stronger value booster than a cheaper feeling large building.
Get financial advice
We'll find a professional perfectly matched to your needs. Getting started is easy, fast and free.
What about paying for a garden office through a limited company?
If you run a limited company, it could well be a good move to pay for a garden office through the company.
The office itself will be classed as a structure, so it's unlikely that you could claim tax relief on it, but you should be able to claim on furniture and equipment, such as desks and shelves, through capital allowances.
Elements such as electrical wiring and plumbing — despite being essentially part of the structure — can also be claimed on. Electricity, gas, water and repair costs are also allowable business expenses.
So in short, you can't claim tax relief on the cost of designing and building your garden office, but there are plenty of good, legitimate ways to do so through equipment and running costs.
Given the way working trends and the property market are heading, now is a good time to consider building a garden office to enhance the value of your property.
The exact increase is dependent on a whole host of factors, as we've discussed, and an estate agent with thorough local knowledge will be able to help you decide on your best budget, design and size.
If you found this article insightful, you might also find our article on how a loft conversion can add value to your home informative, too.
Get financial advice
We'll find a professional perfectly matched to your needs. Getting started is easy, fast and free.